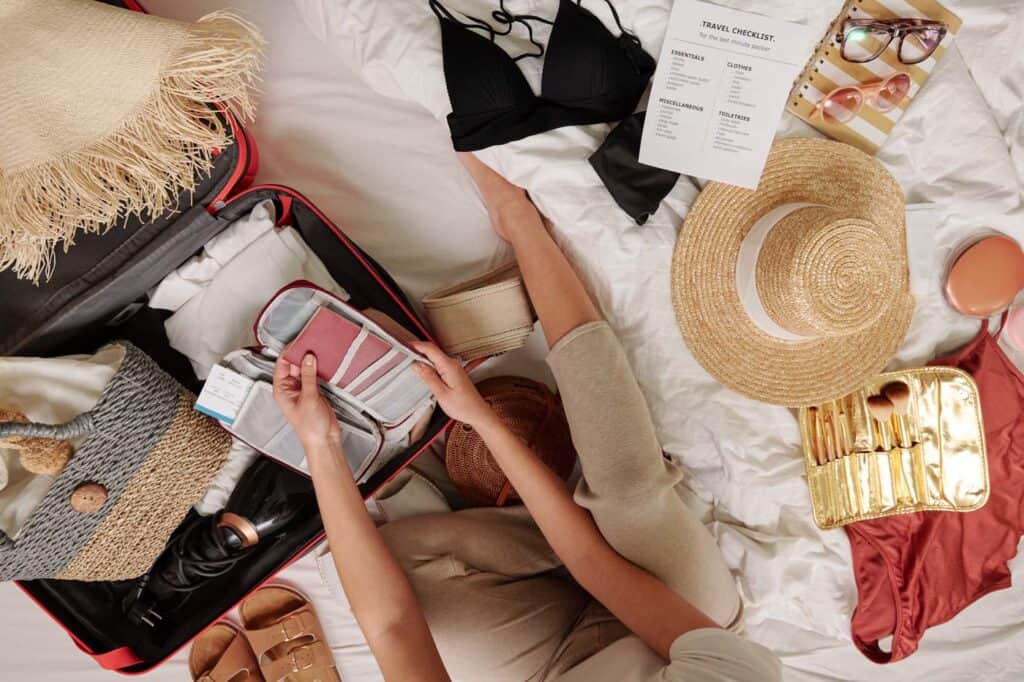 The only Gold Coast packing guide you'll ever need!
Start preparing for your Gold Coast getaway!
---
There are places to explore around every corner, such as waterways, walking trails and local shops and eateries, and it's a good idea to be prepared so you don't miss a thing.
This Gold Coast packing guide has everything you need to make the most of your Gold Coast holiday.
TAKE THE.. 
ESSENTIALS
Good vibes
Mobile phone
Cloths & suitable shoes, of course
Cameras for those funny and memorable home videos
Emergency cash, ATM and credit cards
First-aid medical kit
Glasses, sun glasses and contact lenses
Sunscreen & hats
Toiletries
Important documents such as passport, insurance, flight details, etc.
Camera, ipad, head phones – if required
Chargers and plug adaptors if needed
Backpack or bag for daily activities
LETS GO TO.. THE BEACH
Hailed as one of Australia's most pristine beaches, it is a post-card perfect attraction that attracts surfers, swimmers, and joggers around the world.
Here's what to bring!
Water bottle
Sunscreen (waterproof and SPF 50+ is best for optimum protection)
A hat with a floppy edge or a distinct visor
Sunglasses
Swimwear
Beach towel (you can hire 1 or 10 from reception!)
Thongs (flip flops)
Beach cover clothing for those quick trips into one of the many cafes for an ice cold acai bowl, smoothie, soda or snack.
Camera for those beautiful views!
We highly recommend bringing along a pop-up beach tent, or beach umbrella. As the midday sun can be extremely hot! Not to mention it will provide a little privacy for you and your belongings.
Note: if you're travelling with kids, bring along some boogie boards (there are a couple to hire from reception!) to surf the waves and buckets and spades to make sandcastles.
ALWAYS: Say g 'day to the lifeguards and swim between the flags. There is a notice board by the flags detailing surf conditions, however always feel free to ask the life guards for advice and tips!
LETS GO TO.. THE RAINFOREST
A trip to the Gold Coast hinterland is a must-do while on your getaway; this stunning green wonderland, bursting with mountains, waterfalls and villages, lies beyond the iconic beaches the Gold Coast is most famous for.
Comfortable walking shoes
Active wear
A hat
Sunglasses
Sunscreen
Water bottle (freeze some water the night before!)
High energy snacks eg. fruit, trail mix
Camera for those beautiful views and family home videos
Taking your swimmers and quick dry towel is always an option as the GC Hinterland has many creeks, rivers, waterhole to take refreshing dips in.
Water shoes, optional.
LETS GO TO.. 
DINNER
When you hit the streets for a mouthwatering meal at one of the Gold Coast's best restaurants, you'll need to wear something that consists of more than just your swimmers.
While the Gold Coast has a decidedly laid-back vibe, packing a cover up for when you're eating out after the beach or if you're grabbing a takeaway for your riverside picnic will stand you in good stead. If wining and dining is on the cards, bring along some dressier clothes (and shoes) for the occasion.
LETS GO.. 

SHOPPING
Save room in your suitcase and shop for a stylish souvenir while on the coast.
Markets are a great spot for picking up a unique gift. Surfers Paradise Beachfront Market (open Wednesday, Friday & Saturday 4:00pm – 9:00pm), Miami Marketta (open on Wednesdays, Fridays & Saturdays 5:00pm – 10:00pm) and Burleigh Heads' The Village Markets (open once a month – Sunday 08:30am – 1:00pm) are some excellent options.
If you want to shop in air-conditioned comfort, head to Pacific Fair Shopping Centre. Here you'll find over 400 stores ranging from luxury and iconic global brands to leading Australian retailers. When you get hungry, indulge in a hearty meal at one of the many onsite restaurants.
When it's time to shop up a storm, ensure you have plenty of reusable bags, your wallet and an observant eye to spot those one-of-a-kind items.